12 Top Things to Do in College – Assignment Editing Service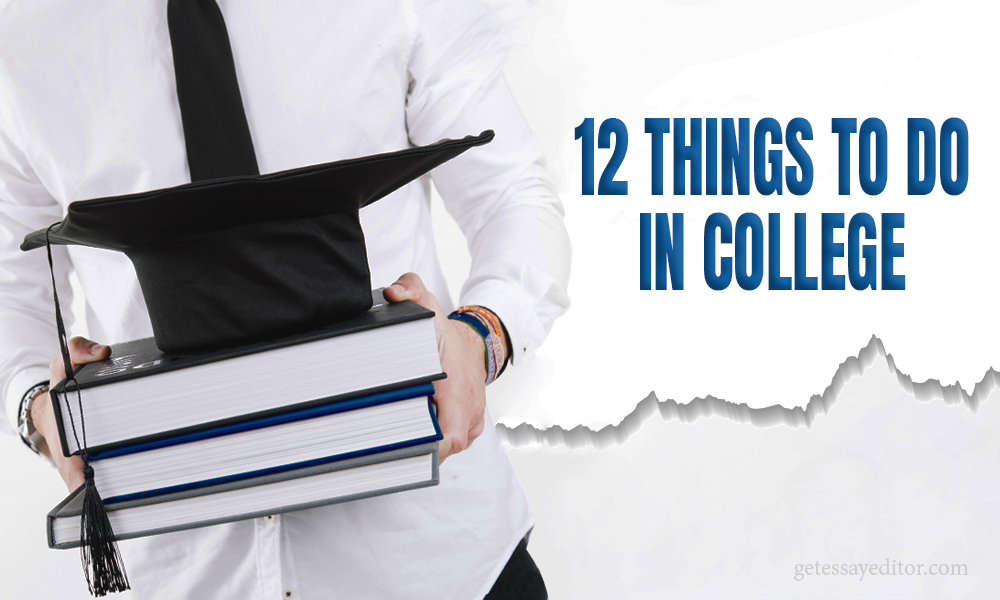 College years are the most fun and exciting time in your life, so you want to make them memorable. Non-stop parties, friends from diverse backgrounds and campus activities offer you lots of ways to enjoy yourself. On the other hand, this is the best time to invest in your education and future. And the right steps taken at this step of your life will ease your career path and future life a lot.
You surely know lots of ways how to have fun in college. From our side, we would like to suggest you do the 12 most essential things that will do you a lot of good in the future. So, sit back, relax and read the picks from our online essay editor on how to make the most out of your university years.
Ease your university life with the help of assignment editor
The professors probably assign you lots of papers to write, don't they? One of the most efficient ways to release your academic pressure while keeping the grades high is to hire an online paper editing service. The copyeditor of Getessayeditor.com can edit your paper of any complexity, from a research paper to a term paper or even thesis. As a result, your ideas and findings will shine, and nothing will prevent you from getting the highest grade.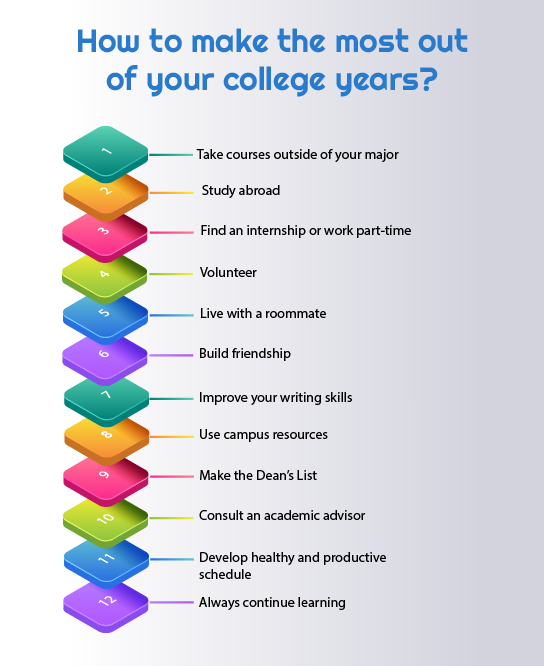 Make the most out of your college years: 12 proven ways
1. Take at least one course outside of your major
Your choice of academic subjects will be likely predetermined by your major. However, don't be afraid to step out of your comfort zone and pick at least 1-2 courses outside of your main line of study. It's a great way to expand your knowledge and maybe future career options. For example, if you major in American literature, you might want to explore public relationships or business fundamentals. Moreover, you might happen to come across the subject which will excite you and motivate to learn further.
2. Travel or study abroad
One of the most enriching and fulfilling experiences is living abroad and exploring a completely different culture. Many universities offer student exchange programs which allow you to spend a semester or a year studying abroad. Not only this is a challenge that will help you grow as a personality, but also the employers value international studying or volunteering experience. If your institution doesn't offer an exchange program that suits you, consider going abroad on a gap year – this is also one of the best things to do in college.
3. Become a volunteer
Voluntary work is a great activity for people who care. Helping others makes your own life meaningful as you give back to others. However, it's particularly important that you volunteer doing something you like or something you believe in. In this case, you'll expand your network and see it as a hobby, not another obligation in addition to your course schedule. Moreover, active voluntary work may easily evolve into a full-time career.
4. Find an internship or a part-time job
The best way to build practical skills and apply your theoretical background is through internships. Many top employers collaborating with universities offer such short-term programs. Although internships aren't always paid, do take this opportunity as you'll gain real-world experience that can be put on your resume.
A part-time job is worth considering too. By supporting yourself financially, you'll feel more confident and responsible. Moreover, as you make your own money, you'll learn to plan the budget and manage it which is also a helpful skill.
Note that all of the above activities add value to your resume. The more active you are in the course of college years (in addition to studying well, of course), the better your resume will look like, increasing your chances of starting a career with a reputable company.
5. Live with a roommate or your significant other
Even if you've entered the university in your home town, consider moving out of your parents' place to campus or rent a flat with some college mates. This simple step will make you more mature and considerate of others. You will learn to live independently and take responsibility for things you used to take for granted: planning budget, managing your schedule, maintaining good relationships and more.
6. Build long-term friendships
Have you heard the saying "It's important not what you know but who you know"? It couldn't be truer when describing a recipe for success in adult life. College years are the best time to form strong, long-term friendships – you can connect with people in your classes, a college sports team or with your roommates. As you spend a lot of quality time together, you'll find it easy to stay friends for long years. As you get older and have more commitments, it's hard to build a friendship this strong. Moreover, the more friends and acquaintances you make as a student, the easier you will find it to move up the career ladder.
7. Polish your writing and assignment editing skills
Essay or research paper writing is the most popular type of assignment you'll receive as a student. Even if you are dreaded by writing, the faster you'll learn to produce well-written papers, the better for your academic success. One of the proven ways to enhance your writing abilities is to cooperate with a professional academic editor. An expert editor will polish your written paper and give suggestions to improve your writing, for example, revise the use of future tenses in English. By learning from your own mistakes, you'll inevitably become a better writer.
If you are seeking more advice on writing perfect texts, here is it: http://getessayeditor.com/blog/how-to-write-a-breathtaking-text-7-safe-and-proven-methods.
8. Use the campus resources for your development
All colleges and universities typically offer an abundance of resources you can use for free. This includes everything from tutoring and career centers to art and crafts classes, language clubs, gyms and even mental health counseling. Many students don't have time for these activities between their classes and parties, but we recommend that you take full advantage of what your college has to offer. This is the perfect opportunity to go in for something you love and to enhance your skills free of charge. As soon as you're out of college, all educational and creative activities will be paid.
9. Consult your academic advisor
Meet with your academic advisor early on to schedule classes and graduate on time. The truth is, without their insights and explanations, it might be hard to figure out the exact college requirements and meet them. And if you don't meet those requirements on time, you'll have to pay more for extra tuition. To avoid future problems and ensure getting your degree successfully and with the GPA you want, do meet your academic advisor on a regular basis. They will make all bureaucratic and complex issues of the studying process easier for you.
10. Make it to the Dean's list
Speaking of the GPA – you've heard that great academic performance and awards matter a lot for your career, haven't you? So, if you get a chance to participate in a student conference or a contest, use this opportunity.
Another prestigious academic accomplishment is Dean's list. This is an academic distinction for the students who have the highest academic performance (GPA required is usually 3.5 and above). Yes, meeting these requirements is a huge challenge – for example, you'll need to perfect your academic writing skills (here's our complete guide to APA formatting: http://getessayeditor.com/blog/apa-proofreading-for-students-10-tips). However, obtaining this award opens a lot of opportunities. For example, you might be eligible for scholarships or job offers upon completing your degree.
11. Develop healthy habits and productive routines
Spending late nights working on a project or essay or staying up until dawn in a dance club are considered the classics of student life. Although the experiences like these spice up your college days and make it unforgettable, don't turn them into a habit. All in all, if you don't have a good sleep constantly, you won't be able to study and work productively on a level that educational institution requires.
The same goes for your nutrition habits. Instead of googling "how to eat and lose weight", choose healthier food and exercise more. The good habits you develop early in your life are easier to maintain when you start working.
12. Never stop learning, assignment editors recommend
In the digital era, it's more than obvious that the learning doesn't stop with obtaining a diploma. If you want to be successful in your career (since you are reading this, we suppose that you do), commit to the idea of lifelong learning. Time after time, you'll need to take training or courses to dive deeper into your professional area, to learn new software, new languages and more. The more comfortable you are with acquiring new things and broadening your knowledge, the higher are your chances for a well-paying career and vertical promotions.
A substantial skill that will help you to be a successful learner is to extract the most important information and weed off the secondary details and facts. If you learn how to do this while in college, you'll become a successful student.
Where to edit my assignment professionally?
One of the traits that successful students share is asking for help when it's necessary for an academic success. For example, if you are having troubles editing a term paper on your own, consult the team of editors of Getessayeditor com. We have been providing help to students for 10+ years and can edit your assignment of any complexity, helping you excel in your studies. Here's what our team has to offer:
Learn from your mistakes – you'll track all changes made, analyze your mistakes and improve your writing skills;
Quick delivery – we realize how important deadlines are, so you'll get an edited paper prior to deadline;
Affordable price – pay $7 for page only for first-class academic editing and take advantage of limited discount offers.