10 rules for effective reading
How to read books effectively? How could you know that the book deserves your attention? How to remember what you have read for a long time? Editor from GetEssayEditor.com, a service that provides online writing and editing assistance for students, shares with us tips on how to read books effectively.
1. Your reading list
When it comes to books, most people feel a strange mixture of greed and apathy. We like to buy the books, store them up on the shelves, but do not always read them. A huge number of unread books discourages us.
Do not buy a lot of books for future use. You just need one or two. All the rest will wait in the wings in the reading list. And try to buy less expensive illustrated editions, because they are good for a gift, but not for personal usage.
2. The rule of 50 pages
Life is too short to waste it on uncurious books. Try to drop out all boring and useless books from the very start. It's enough to read the first 50 pages of the book to realize whether is it interesting or not. If the first 50 pages captivate your attention, you will not be disappointed by the book at the end. If not – c'est la vie. Try not to give a second chance to a bad book. Every year hundreds of thousands of new and exciting books are published around you.
3. Who is the author? What does he write?
Before reading, take stock of the book: read about the author of the book, briefly review the main topic. Thus, you will be able to get yourself ready for the reading. In addition, before reading ask yourself what would you like to know about the book? What problems will it help to resolve? This will help to cling to the subject matter of the book that is useful for you.
4. Alternative Formats
There are plenty more fish in the sea than the books. Nowadays, there are a lot of other formats that can be interesting for you: articles, audio books and podcasts, infographics and long-form articles, digests and mailout.
If the book seems to be long and boring to you, it means that it is really boring and long. Switch to the other formats, found your cup of tea.
5. Read with a pencil in your hand
Never read a book without a pencil. If you cannot make a note or highlight a quote, reading is useless. The book is just a mountain of the verbal minerals, from which you need to extract grains of sense. If you cannot separate the rock from the gold nuggets, then why do you read it? Feel free to underline and highlight, note down your own thoughts and ideas. Turn the book into something more special, more than a stack of hemmed paper. After such a conscious reading, the book becomes truly yours.
6. Read at least 30 pages a day
All people have their own read rate. Some people prefer reading a book per month or more, sticking to details page by page. Some people run through the whole book in a couple of days. However, there is a simple and universal formula of reading. It helps to read and finish the book to the end before you lose your interest and curiosity.
Try to read at least for one hour a day and at least 30 pages per day. Therefore, you will be able read one book week. It is 60 books a year, what an excellent result!
7. Mix the genres
Everyone has several favorite genres of literature. However, if we delve into detective novels or business books too much, we can get sick of it . Even exciting books may become annoying.
In this case it is useful to change the genre. Mix books like cocktail ingredients. After you have read a non-fiction, take something from English classic literature. Then, discover fiction literature and switch to some psychology book.
The ability to alternate literary genres is a great way to stay erudite and broaden your outlook.
8. Write about the information you read
If you read effectively, then you will eventually collect interesting citations, excerpts and thoughts about the stories. This is valuable information, this is what expands horizons. Share this information with other readers or your friends online.
Start your own blog about books and interesting readings. You may write a review on the book you have just read, or share quotations. Publish your reading list, provide own feedbacks on bad publishing companies and advise what to read. It is not necessary to create a personal blog for this purpose, you may even use your  Facebook account, because you do not need any special writing skills to share your opinion concerning good books and authors.
Thus, you will have a place to keep good quotes and excerpts, and your friends will be thankful to you and will get a couple more reasons to love you better.
9. Re-read your notes
Make it a habit to re-read your book notes. It often happens that you read something interesting and try to remember it, but in several days you may completely forget the information that was so important to you. Making notes helps you to learn information by heart easier and faster. Notes are always at hand. Practice makes perfect. So the key ideas will always be at hand whenever you need it.
10. Slide show about the most interesting books
If you want to remember what you have read in the book, tell your friends about it.
GetEssayEditor's team members, as well as our professional editors usually give seminars on the most interesting books and news in the field of academic writing and literature.  During workshops, employees share information about novelty books and best sellers. You can carry out a reading workshop with your friends and family, it would be very exciting.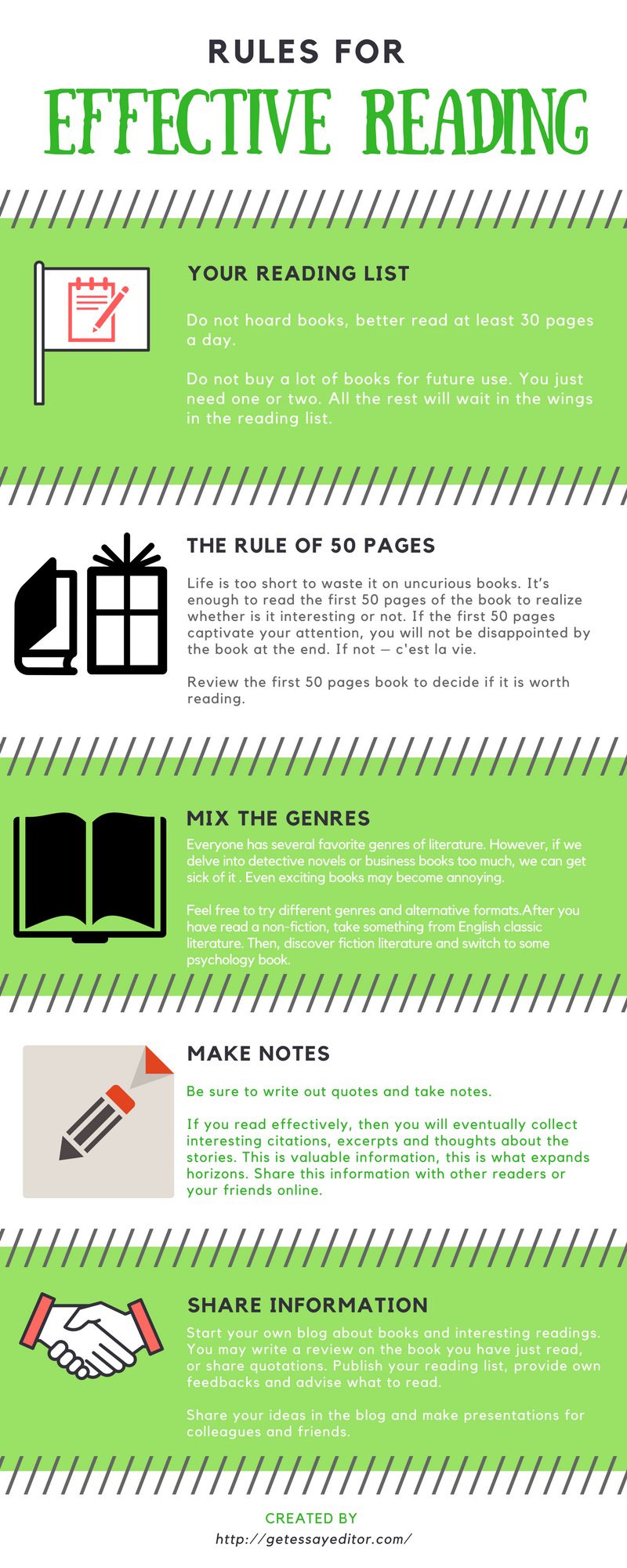 So, if someone decided to create a brief summary based on our advices, he would get the following list:
Do not hoard books, better read at least 30 pages a day.
Review the first 50 pages book to decide if it is worth reading.
Feel free to try different genres and alternative formats.
Be sure to write out quotes and take notes.
Share your ideas in the blog and make presentations for colleagues and friends.
Related posts: