10 Productivity Tips for College Students
Discovering the secrets of productivity is one of the best things you can do for your academic performance and life success in general. Productive students get things done and meet deadlines without going an extra mile. Does that sound fantastic to you? Are you one of those students who work and study day and night but still stay up all night to write a paper or prepare for an exam?
Today, our paper editing specialist has prepared a set of principles to help you become more organized and productive. They'll help you manage your time, prioritize tasks and avoid procrastination. Master these techniques, and you'll always be on time with your papers and get enough time to rest, socialize and have fun.
Explore the benefits of hiring a professional paper editor
Quite often, students hand in papers that have grammar, style or punctuation errors. And the online spell checker isn't always the solution – they only can spot the limited types of mistakes. To receive the maximal grade for your research paper, term paper or thesis, consider collaborating with an academic editor. Meticulous editors of Getessayeditor.com have extensive experience correcting college papers. We will fix minor issues, paraphrase for better clarity and apply the necessary formatting.
10 productivity tips for students
1. Know what you spend time on
To optimize your habits and use of the time, you first need to understand how you tend to spend your time. Grab a notebook or your phone and spend the week writing down the time you spend completing a particular task, chatting with friends or reading a fiction book. You might also be surprised to find out that, for example, out of four hours you've spent in a library only an hour and a half was dedicated to the literature review. And the rest of the time you spent talking to a friend or checking the phone. This technique will help you understand where you procrastinate most and which habits bring chaos in your life.
2. Work in uninterrupted blocks
We all know that distractions are productivity killers. So, give yourself a favor and try this: finish smaller tasks in one sitting. As for large projects or homework (the ones that take more than 2-3 hours to complete), work on them in blocks. Set a time limit – some recommend 90 minutes but you can choose what works for you – and spend this time frame deeply concentrating on the task. Eliminate all distractions: find a quiet place, turn off the phone and ask the roommate not to interrupt you. As the experts say, when we're not distracted, we complete the work better and faster.
3. Take breaks regularly
Genuine productivity doesn't mean 'all work and no play'. If you force yourself to learn for hours without any breaks, you'll only experience greater stress and fatigue. While doing something monotonous or familiar to you for 4-6 hours may be okay, this is an absolute productivity killer when it comes to learning. So, give yourself 5-10 minutes of a break in-between the blocks of learning. Have a cup of coffee, take a small walk, stretch or call a friend. Breaks let your mind rest and thus allow you to focus on learning for a longer period of time.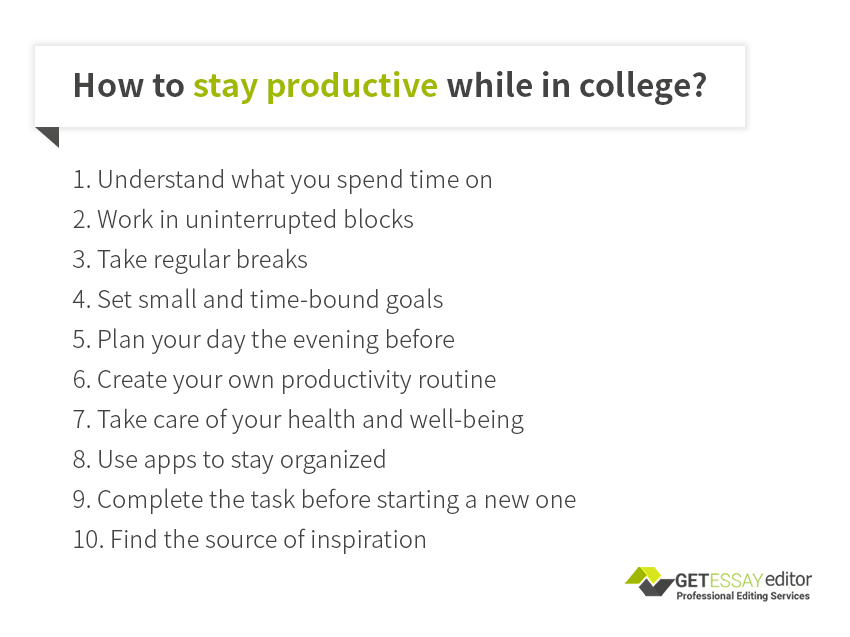 4. Set small time-bound goals
Are you one of those students who keep postponing the task for weeks and then stay up all night to compose a term paper that is due next morning? To avoid situations like this, break the big goal into smaller tasks you can complete in a few hours. For example, if you have a research paper due, your small goals can sound like "Do a literature review", "write a flat outline", and "write chapter one". Set deadlines for each of your small goals – otherwise, you'll keep postponing them. The effectiveness of small time-bound goals is that they look manageable and give you a sense of completeness once you're done with them. And if you give yourself a small reward (for example, if you complete the half of your thesis, you're going to that awesome rave party), it will give you even bigger motivation.
5. Plan your day in the evening
As you are breaking down the big learning tasks, you need to fit them into your daily schedule. To make sure you don't forget about any important assignment or project, plan your day the evening before. Even if your studies and work are pretty intensive right now, don't make the schedule too tight – leave blank lines here and there so that if any activity takes more time the rest of your day don't get messed. Along with planning classes and workshops, allocate time for meeting with friends, shopping, and relax. If you don't, chances are that you'll procrastinate on writing an essay and skip on the quality time with your loved ones.
College life is an amazing experience – do these 12 top things to make the most out of your time in college.
6. Develop your own productivity routine
While planning your day, minimizing interruptions and having enough sleep is universal advice, you should also find productivity tricks that work individually for you. You might have noticed that you learn better and faster in certain conditions. Some of us are more productive in the morning whereas others are night owls. Maybe, you need to work from a quiet place or, on the other hand, find the hustle environment stimulating. Routines also matter a lot for focusing your attention. Working from your favorite spot, making a cup of herbal tea or reading a couple of articles before starting to learn can all be seen as routines. Figure out what works for you to set yourself for productive study.
7. Take care of your health and wellness
You must be tired of hearing this world-old advice. But, speaking the truth, how many students take real care of their nutrition, exercise and sleep regimen? Nights out with friends, fast food and evenings in front of the laptop don't contribute much to our health. And while eliminating all unhealthy ways of having fun isn't realistic, it is possible to find your own balance. Try allocating at least 30 minutes a day to exercising – jogging, fitness, or get benefits from yoga. Improve the quality of your sleep – when you're not going out, go to bed early and put your phone aside to sleep better. Even these simple steps will improve the way your body and mind functions, which will immediately reflect on your productivity.
8. Use tech tools for staying organized
To stay organized, a notebook and a pen are enough. But if you're a fan of technology, there are plenty of apps you can take advantage of. Evernote allows you to keep notes, to-do lists and events in one place. Also, you can keep your bookmarks, PDFs and pictures so that all resources for study are always at hand. EasyBib is of great help when it comes to preparing a bibliography for a research paper. It creates perfectly structured citations in your chosen citation style, saving you time and effort. And Trello, an app for project management, is perfect for creating well-structured to-do lists and breaking them down into specific tasks.
9. Complete the task before switching to the next one
Let's say you try to compose a literature review, spend 15 minutes on it and then find out that it's extremely boring, so you decide to do something else. You switch to a five paragraph essay, then stumble upon the second paragraph and decide to prepare for the test instead… Sounds familiar? When you switch from task to task, you feel you're being busy, but in reality you don't get things done. So, avoid hopping from task to task at all costs. If you've decided to write an essay, then don't give it up until you're done. If you can't seem to concentrate on any task, give yourself a break and then start over again with the fresh mind.
If you want to improve essay writing skills, take a look at these tips: http://getessayeditor.com/blog/most-important-rules-about-nouns-to-improve-your-writing.
10. Find the source of inspiration
You've probably been there: one day you struggle to put a few words together, while the other day ideas are literally flowing. Inspiration matters a lot for quick and effective essay writing as well as other learning activities. To get inspired, try reading your favorite blog, listening to some music or watching a short video. It's also a good idea to read the news on the subject you intend to write on. Why news? The tone and vocabulary used on news website are of a high standard, which will enrich your own vocabulary and reflect positively on the quality of your writing.
Beating procrastination is possible if you decide to be organized, schedule tasks and using the time more effectively. By using these tips in your daily life, you'll find it easier to cope with multiple assignments, live a balanced life and become a better student.
Need an important paper checked by a professional editor?
One of the best ways to become a better student without effort is to find an academic editor. Students often make minor errors in writing and cannot get the highest grades because of them even when the essay content is excellent. Quality editing is especially important when it comes to important papers such as term papers or thesis.
Our best paper proofreading service online will improve the quality of your writing by fixing minor errors and rewriting some phrases to help them sound better. We guarantee timely delivery before the deadline so you won't be late with your essay. And our prices for editing service will pleasantly surprise you. You will also get a 20% discount for your first order with us.