Become A Better Writer: 7 Tips from Content Editor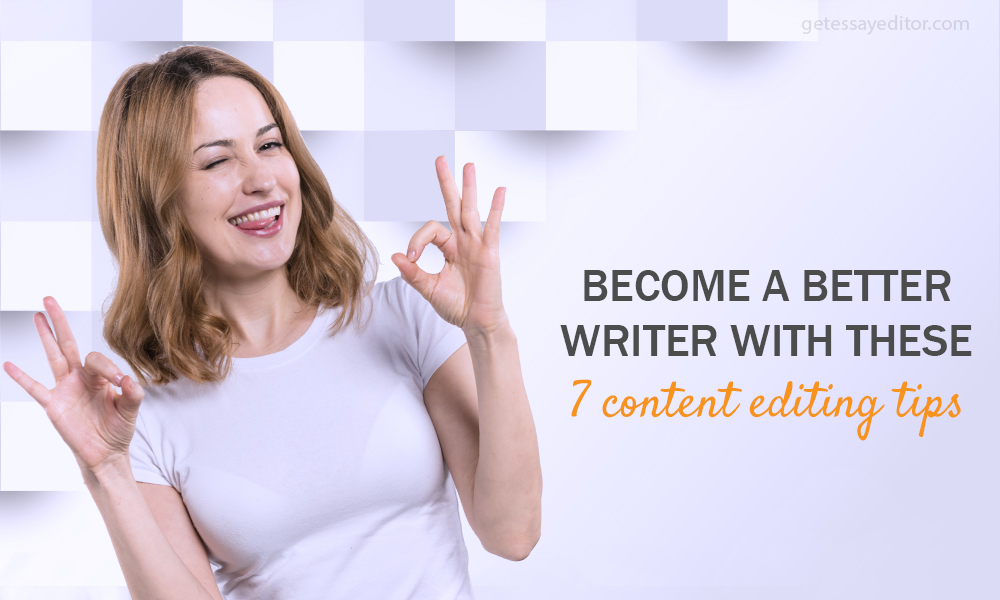 Whether you want to make a go of your personal blog or to develop a business blog, the methods for success is pretty much the same. First of all, you'll need to develop high-quality, engaging blog posts that correspond with the needs of your target audience.
One of the proven ways to create better content is to master efficient editing techniques. Once you've written a post, it isn't ready for publication. It sometimes takes a few rounds of editing to transform your draft into a great blog post that people will like and share. Our online paper editor suggests you a range of tried-and-true editing techniques that professional editors use – continue reading to learn more about them.
Grow your blog with the help of web content editors US
If you want results from your blog in the form of sales or increased traffic, your prose should be excellent every time you make a new post. People will follow you only if you share something helpful and do it in a reader-friendly way. And that's when a professional editor can make a huge difference.
The copywriting team of Getessayeditor.com has 10+ years of content marketing experience. in particular, our experts can prepare your written blog posts for publication, polishing it from mistakes. Our pro correctors will improve grammar, syntax, writing style, and tone of voice to make your writing truly engaging and effective.
7 professional tips for editing your copy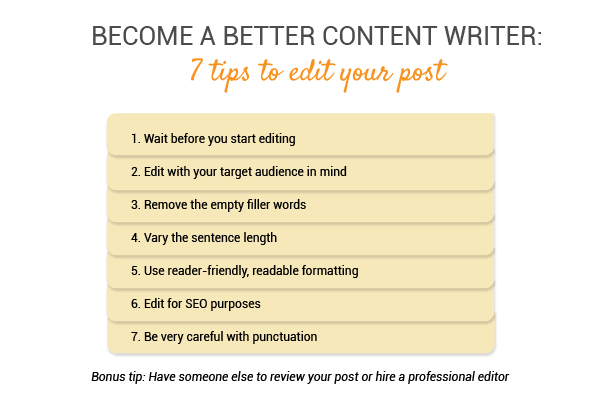 Whether you create an entry for a personal blog or landing page for business, these tips will take your writing to the next level:
Take a break between writing and editing
You must have heard this thousands of times. Yet, many content writers and bloggers work in the rush and neglect this rule. Taking some time in-between these stages is essential so you could distract from your own writing and look at it from a different perspective. It's hard to be objective to be about your own work. So, take at least few hours – go out for a walk or check out the woman writers worth reading. When you come back, you'll look at your piece with a fresh look and edit more efficiently.
Edit in line with your mission
Before you get down to editing, put yourself in the audience's shoes. Who is your target reader? What kind of their problem this text is going to solve? Your writing will sound differently when you address an American college student and a British finance consultant, won't it?
Edit with your target audience in mind, asking yourself if the writing is going to be valuable and helpful for them. Doing so will help you better serve the audience's needs and eventually achieve the goals you've set.
Cross out the empty filler words
Whether you want to create a longread for 3,000+ words or a short Facebook post, every word should count. It means that your writing should be highly informative and convey your idea in fewer words. Many writers and bloggers use the so-called filler words such as: it will be, there is, here are, it won't. These words make your writing sound weak and make your sentences sound watery.
The solution? Whenever you catch yourself using filler words, remove them and put emphasis on meaningful words that actually convey your thoughts. For instance, "There are some business owners who can afford…" can easily be replaced by "Business owners can afford…"
Want more meaty advice specifically on business blog writing? Here you go: http://getessayeditor.com/blog/12-best-practices-for-company-blog-writing.
Vary the sentence length
You probably heard that web content should have short sentences. While this is true to some extent, you needn't go to extremes and keep each sentence under 10 words. Ideally, the sentence length should vary, as it helps create the rhythm and keep the reader's attention. Actually, varying the sentence length is one of the keys to write an awesome text.
The sentences of the same length sound monotonous. Unless it's your goal to make the page visitor yawn, avoid monotonous writing at all costs. And don't bother much about the paragraph length. But do follow the 'one idea per paragraph' rule while editing.
Format for better readability
When checking your post or piece of content, pay close attention to the way it looks. An effective websites writing is formatted in a way that allows the reader to skim through the text quickly. Short paragraphs, clearly visible subheadings and lists serve this purpose well.
Look through your writing quickly before publishing it. Does it make an impression that the article is easy to skim through? Do the subheadings give a clue about the post's content for busy readers? If it doesn't, you might need to work a bit more on the structure and formatting.
Edit for SEO purposes, the website content editor recommends
Since it's the web writing we're talking about, your landing page content or blog post should be optimized for searched engines. Otherwise, your potential readers or customers won't be able to locate it. When editing your copy, insert the right amount of keywords, add trusted links and follow other rules of SEO copywriting. If SEO writing is all Greek to you, our professionals can help you out with that too and provide in-depth guidance on SEO optimization to help you get maximum results out of your content marketing strategy.
Be super careful with the punctuation
Commas and hyphens are often seen as a minor writing issue. Nonetheless, the importance of punctuation is that it can completely alter the meaning of the sentence. Using a comma makes the reader stop for a moment and give your ideas clarity. Moreover, if you neglect punctuation check, it will make the educated readers think that you didn't put much effort into writing.
Luckily for you, punctuation is easiest to correct on your own – there's a plenty of online spell checkers out there. Such tools as Grammarly won't make your writing perfect, but will definitely help fix the punctuation. Also, make sure you follow the style guide – here are some editing tips if you are using APA: http://getessayeditor.com/blog/apa-proofreading-for-students-10-tips.
Read your writing carefully and use the above rules when editing it. These tips will help you not only to avoid the common mistakes, but also to deliver your ideas clearly and effectively, eventually attracting more reader and subscribers.
Benefit from branded content editing services
If you want to create content that generates results, its quality must be impeccable. People expect helpful and engaging content that is written in perfect English. A professional editor of Getessayeditor com can polish your writing and prepare your posts for publication.
Have no time to write posts for your business blog? Our copywriters and marketing professionals will build a content plan and create the right number of blog posts for you in accordance with your requirements and expectations. Landing pages, blog posts, social media content, email newsletters are just a few examples of how we can help achieve your business goals. Learn more about our prices and services or contact us via live chat to further discuss your project. A huge discount is available off your first order – get your 20% off.