15 books that are worth reading before being filmed
The question "What is better: the film or the book?" always brings a lot of controversy. There is no doubt that before getting into discussions, it is necessary to learn all the facts. GetEssayEditor.com prepared a list of books that will be filmed in 2017 for those who always like to compare the writer's manuscript with the movie.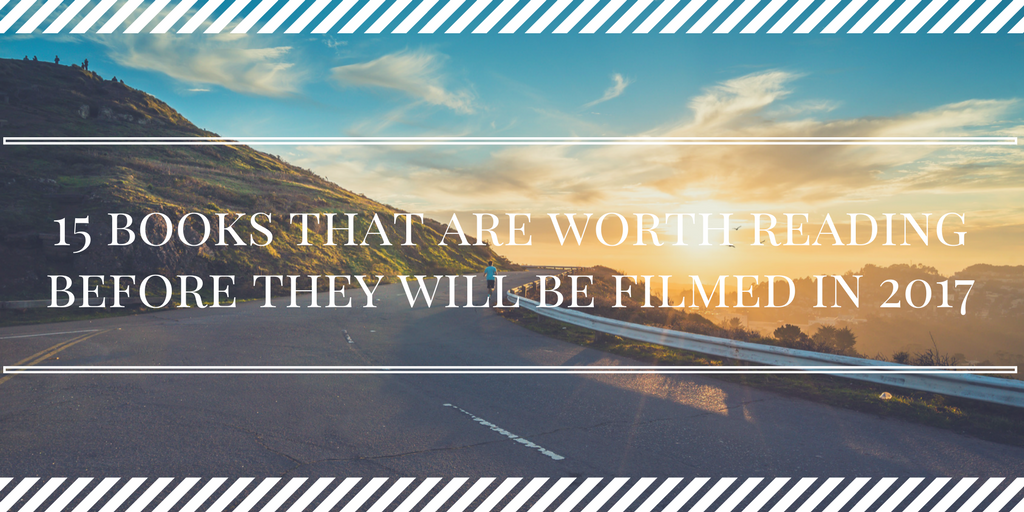 The Circle by Dave Eggers
Internet Company "The Circle" collects users' e-mail, social network profiles,  information about bank cards and purchases into a single system.
The result of this process is obtaining human universal online ID. But in practice the system is not perfect at all.
Release Date: 28 April 2017
Tulip Fever by Deborah Moggach
It is a romantic story of the XVII century about an artist who falls in love with a young married woman. Together they decide to start a risky floral business in the hope of building their future.
Release Date: 23 February 2017
Silence by Shūsaku Endō
The novel is based on actual events of the middle of XVII century, when the Japanese government carried the most severe persecution against Christians. Three young Portuguese priests sneak into this terrible and closed to foreigners country. The goal is to refute the rumors about infamous apostasy of their teacher, Father Ferreira. In addition, they want to continue secret preaching of Christianity in Japan.
Release Date: 12 January 2017
La Belle et la Bête
In search of her missing father, a brave beautiful Belle came to the castle of the terrible monster. She had no idea that a handsome prince is hiding under the mask of terrifying monster.
Release Date: 16 March 2017
The Canterville Ghost by Oscar Wilde
American family buys an old English mansion. American family buys an old English mansion. Former owner of the house warns them about an unusual inhabitant of the castle, but Mr. and Mrs. Otis are not frightened by the ghost. The ghost appeared to be hard-nosed and decides to frighten and drive out hapless Americans at any cost.
Release Date: 25 December 2017
A Monster Calls by Patrick Ness
Thirteen year old Connor suddenly discovers about the imminent death of his mother. The imaginary monster, an old yew tree, helps the boy to get over this tragedy, to overcome all difficulties and helps to understand it.  The tree transforms into a monster, when the boy feels really bad.
Release Date: 16 February 2017
Fallen by Lauren Kate
Luce Price has a bad luck in her life. The girl is accused of the mysterious death of a man who dies during the fire in her presence. Fortunately, she falls in love with her classmate Daniel, who saves her from a terrible life like hell.
Release Date: February 2017
The Shack by William P. Young
A young daughter of the main character Mack suddenly disappeared. Shortly, police found the evidence of her death from the hands of a maniac in an abandoned hut. Four years later, the father still has not put up with the loss. He received a strange letter which tells him to visit that hut…
Release Date: 3 March 2017
The Dark Tower by Stephen King
Roland is the last living member of a knightly order. The story is about his journey around the post-apocalyptic world which remains the American Old West. This world is full of magical events.
Release Date: 15 February 2017
Hidden Figures: The American Dream and the Untold Story of the Black Women Mathematicians Who Helped Win the Space Race by Margot Lee Shetterly
The book tells about the life of three women who carried out complex calculations, which helped the orbital launching of an astronaut John Glenn and his safe return.
Release Date: 12 January 2017
A Dog's Purpose by W. Bruce Cameron
The protagonist of the book is a dog who is reborn every time.  He always finds a real happiness being a friend to a man. He enjoys life with self-sacrificing gentlemen, lonely boy Ethan, Maya who lost her faith and even touching Wendy. Bruce Cameron convinces us that dogs have such deep feelings, which are unknown to some humans.
Release Date: 26 January 2017
Live By Night by Dennis Lehane
Joe Koglin is a son of a Boston police captain Thomas Koglin. During his life, he was a maverick, who does not respect any laws and even the right hand man of the leader of the gangster syndicate. But all these ups and downs of his life are followed by love.
Release Date: 12 January 2017
Le Morte d'Arthur by Sir Thomas Malory
This novel by Sir Thomas Malory, the English writer of the XV century, is considered to be the best in the world of chivalry heroic and fairy stories of the Breton cycle. It dates back to the myths and epics of Celtic people and the history of the Western Europe in the middle of I century BC.
Release Date: 22 March 2017
Hope this post will help you in writing your book or movie reviews. If you feel that you lack writing skills to create unique essay or academic paper, we offer you to use our professional writing and editing services right away!
Related posts:
Popular topics: